True Full-Service Partner
Here for You Before, During & After a Disaster
When your commercial property experiences damages of any kind, whether they be from a major weather event or a plumbing problem, you don't have time to worry about what to do and who to call. What you need is one company, a full-service partner, that you can count on for all aspects of your recovery and restoration. ServiceMaster Recovery Management (SRM) is that reliable partner. Many companies may claim to be full-service, but end up falling short of that promise. Many only assist you with mitigation and basic reconstruction. A disaster can leave your property with a wide range of needs that other companies are not prepared to handle, like tree and debris removal and temporary power and lighting. Simply put, they don't end up being the one-source solution that they claim.
SRM is your true full-service provider of recovery management services. We will help you save money by minimizing the damage that results from delayed services and helping you avoid service premiums during high-demand events. We'll begin your restoration sooner and always adhere to the pre-approved rate schedule.
Managing the Complexities of Your Recovery
It goes without saying that restoration projects entail quite a few moving parts. These projects can quickly encounter problems if every aspect of your recovery isn't handled appropriately. Timing is also imperative to a successful restoration. Property damage is stressful enough without having to struggle to reach various contractors to assist you with debris removal, temporary power, and other needs.
SRM will eliminate that stress by making sure all of these aspects have been secured. Our clients won't have to compete with others in their community when demand for contractors is high immediately following a major disaster. Others will have to pay a premium price for services, as there won't be room for negotiation during these high-demand events. With SRM, you can rest assured that you and your property will be fully taken care of. Our one-source solution will eliminate any confusion and inefficiency you would experience elsewhere.
Expertise That's Always There For You
Our Single-Source Management
Communication is key to a successful restoration project. Gone are the days of trying to track down the person you talked to last time, being endlessly transferred, and having to explain who you are and your situation over and over again. With SRM, you will have one point of contact for every aspect of your recovery. In addition to eliminating confusion and frustration on your part, this will allow for increased accountability on our part since all services will be working toward a common goal. This will also eliminate any scheduling headaches that you may encounter when dealing with multiple companies, saving you time and resulting in a shorter recovery timeline.
Avoid Delays with Our Pre-Loss Agreement
After a disaster strikes, there is no time to waste. Quick action can minimize damage and cut downtime. One problem that can cause delays with other companies is an incomplete pre-loss agreement. When you partner with SRM, you'll have the most comprehensive pre-loss agreement to avoid this kind of situation. These agreements have historically delivered fewer delays than agreements offered by our competitors.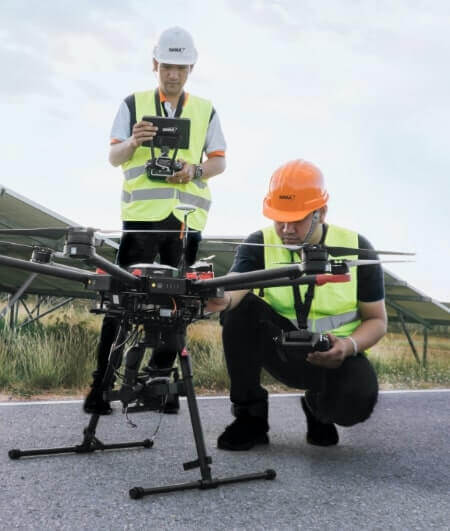 Covering Every Aspect of Your Recovery
When choosing your disaster recovery partner, it's critical that you pay attention to the details of your agreement. Unfortunately, many companies don't include many of the crucial services you need. A standard agreement offered by many of our competitors covers the bare minimum, like mitigation and sometimes reconstruction.
With SRM, you can rest assured that our agreement will cover every aspect of your restoration. In the event there is a disaster, there will never be any questions or confusion on the part of either party. Instead, our commercial damage restoration team will be able to get right to work on everything you need. Our agreement even covers some of the unforeseen needs you may have from unexpected events. Simply put, SRM offers the most comprehensive pre-disaster program that will ensure your facility receives comprehensive treatment.