Branded & Uniformed First Response
Protecting & Restoring Commercial Properties
Minimize losses, reduce costs, and maximize efficiency through the ServiceMaster Recovery Management (SRM) scalable response, which provides the fastest response in the industry, better cost control, and single-source coverage for all of your locations. Our network has coverage across North America than any other provider, making it the most expansive commercial restoration network available, and it adheres to some of the strictest requirements for commercial restoration in the industry.
Throughout our 40 years in business, SRM has encountered and solved many challenges our clients face regarding the protection and restoration of their commercial facilities. One of those challenges vital to minimizing property loss was to provide the fastest possible response without compromising consistency or quality. In addition, we recognized the need to manage cost impact, especially on the first response to smaller, more frequent loss types. While other restoration companies often decline smaller losses, leaving clients to find a secondary provider, we believe clients should be able to expect a single-branded solution with consistent protocols for job management, invoicing, and communication.
The result of these efforts is the industry's only scalable network response, which provides the fastest response time available in a scalable manner dependent on loss size. This engineered solution not only offers clients the fastest response available, but it also provides better control of cost impact by eliminating overresponse or the need to pay 3rd party companies to assess the loss. It also eliminates confusion often caused by a multiple brand response.
Responding to Smaller Crises
SRM understands that the majority of losses experienced by commercial properties are smaller in nature. These relatively small but frequent losses may include:
Toilet or sink overflows
Dressing room damage
Break room floods
Small fires
Responding to events such as these with an 18-wheeler truck is simply not cost-effective. This is why most large loss commercial contractors either decline these service calls or outsource them to another provider in the area. Neither of these solutions is optimal. If they decline to service, clients are left to identify, hire, and manage a new provider who is going to have different rates, management, communication, and overall quality. Even if the contractor outsources it to a local provider, the client will have the same challenges with the service.
To learn more about our recovery management services, reach out to us at (844) 993-0527.
Helping People
Like You Get Back
to Business
"I am not only impressed by the work done by SRM but more importantly how it is done."

- Rich Faber, CFO, Vision Ease

"If it had not been for the team effort of SRM the hospital would have been closed."

- Darrin Ivey, Director of Support Services, Biloxi Regional Medical Center

"Walter, the (SRM) project manager for this project, was incredible."

- Jackie Venters, Senior Property Manager, Duke Realty
See More Testimonials
Expertise That's Always There For You
Our Nationwide Network
Minimize loss impact by using the company with the fastest response times available. SRM offers the largest commercial restoration network, which has been engineered to provide the fastest, most effective response possible. The SRM network offers more locations than any other commercial restoration contractor with over 400 locations nationwide. This means our locations are closer to your facilities and therefore can respond faster.
Our extensive network combined with innovative loss reporting methods allows SRM to provide the fastest response in the industry regardless of how large or small the loss may be. In an industry where response time is crucial and wasted time means wasted costs, SRM has engineered the most effective solution possible. While we pride ourselves on working with clients before they experience damage, when an unforeseen event such as a tornado or failed sprinkler system occurs, you can rest assured you will receive the fastest, most effective response available.
Other contractors may hire third-party companies with little or no knowledge of their quality. In many cases, the primary contractor has not even worked with the third-party company and may have identified them through a simple online search. SRM maintains and manages our network of first responders to make sure our clients receive commercial restoration experts.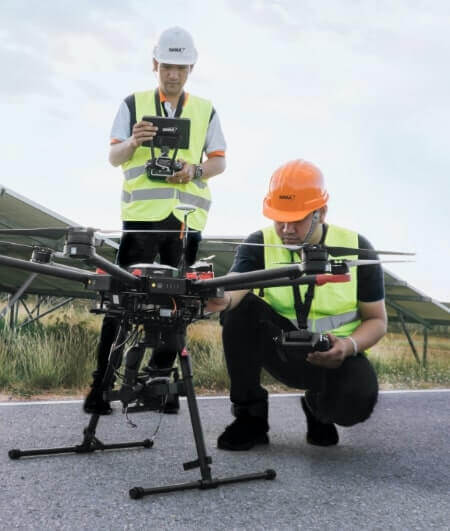 One-Source Coverage
ServiceMaster Recovery Management can help you eliminate confusion and reduce communication errors by offering the only network that provides true one-source coverage for all of your locations. If your company has multiple locations, you may be familiar with some of the struggles of using different contractors for each location. Even some "national" contractors have individual locations that manage projects differently, provide different communication, provide individual invoices, and have varying degrees of quality.
SRM provides single-source coverage for all of your locations. This means you receive consistency across all aspects of your restoration projects from how we communicate throughout the project to final invoicing and documentation. You can be confident that you are receiving consistent service and the highest quality restoration possible. Further, if we are operating off a pre-agreed rate schedule with your company, that rate schedule applies to all of your locations and projects. There is no need to negotiate rates for each of your locations. No other commercial restoration provider offers this level of rigorous quality management and consistency.