SRM Mobile App
Easy Access to Our Recovery Management Services
At ServiceMaster Recovery Management (SRM), we want to provide you with all of the tools you need to run your business effectively. We are proud to offer advanced technology that allows you both to plan for disasters and then recover quickly from them. One of these tools is the SRM mobile application for smartphones, which offers customized features that are just right for your business. This app is exclusively for our SRM Partners and is an essential part of our pre-loss planning and recovery program.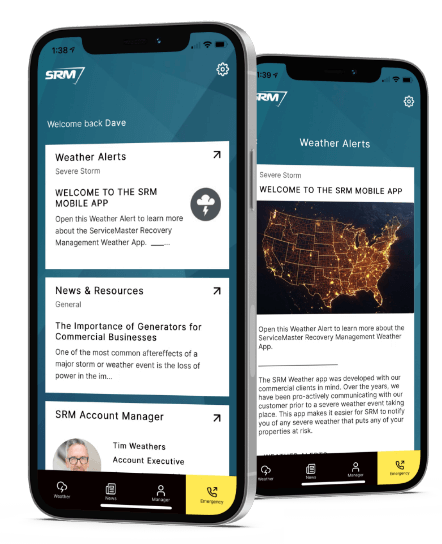 Some of the features of the SRM app include:
Push Weather Notifications: From hurricane tracking with potential property impacts to regional rain events, wildfires, polar vortex reports, and more, this app will allow you to receive customized weather alerts right to your cell phone.
News, Tips & Resources: While many restoration contractors claim they act as a partner to their clients, SRM is the only restoration provider that works in complete partnership. This app brings you the most current resources to help your property minimize business interruption.
Easier Way to Submit Property Losses: With a push-to-dial button, you will never have to worry about finding our number again. Tap on the emergency button on the bottom right corner of the screen and you will automatically connect with our emergency SRM call center.
Time is of the essence when it comes to disasters of all kinds. With the SRM app, you'll always have instant access to helpful resources as well as a fast and easy way to communicate with your SRM team. Our storm damage restoration services are always just a click away.
Always Here for You
No matter how much you prepare, disasters can always catch you off-guard and leave you feeling overwhelmed. SRM will be by your side every step of the way to guide you toward a resolution. Our mobile app is yet another way that we stay connected to our clients.
Contact SRM to learn more about our app and all of our commercial disaster restoration services.
Helping People
Like You Get Back
to Business
"Walter, the (SRM) project manager for this project, was incredible."

- Jackie Venters, Senior Property Manager, Duke Realty

"The incredible progress realized over the last few weeks could not have been accomplished without the resources, energies and overall supervision that was provided through SRM."

- Jeremy R. Shaffer, Executive Vice President Cable USA LLC, A Marmon W&C/Berkshire Hathaway Company

"I have nothing but the utmost respect for their work ethic and 'can do' attitude."

- Troy Walls, Corporate Operations Manager, Aspen Products
See More Testimonials
Ready When
Disaster Strikes
Why SRM