Commercial Water Damage Restoration Services
North America's Leading Provider of Commercial Flood Clean-Up
Water is one of the most common causes of damage to commercial facilities, primarily because there are quite a few ways in which it can affect a property. Everything from leaking roofs to hurricanes to plumbing problems and sprinkler failures can result in water damage. Over the years, the team at ServiceMaster Recovery Management (SRM) has dealt with burst pipes, malfunctioning sprinkler systems, and sewer system backups. Simply put, we have seen it all. That's why we are the ones to call when your business sustains water damage, regardless of how, when, or where.
Our company has seen how one accident or disaster can result in multiple types of damage, much of which can't be easily spotted with the naked eye. For example, a burst pipe can not only cause damage to floors but can also wreak havoc inside walls and elsewhere. That's why it's so important that you call the SRM team at the first sign of trouble. We have the expertise to get your business fully operational faster.
If your business has recently experienced flooding, don't wait any longer to contact our professionals for help. Our expert team of experienced technicians can provide you with the commercial flood cleanup services you need to restore your business.
The Importance of Taking Quick Action
When it comes to water damage, time is of the essence. Starting the water restoration process immediately is critical to preventing water from severely damaging other areas of your commercial property, including floors, upholstery, carpeting, documents, and electronics. Taking quick action can also help prevent the growth of mold.
ServiceMaster Recovery Management's commercial restoration services are comprehensive and include more than just water removal. We also offer content packouts, deodorizing, structural repairs, and boarding up and tarping your property to protect it from other damages, vandalism, or trespassers.
Experience Matters
Over the years, the SRM team has seen thousands of commercial floods and the damage they can cause to commercial properties. Our team has been on site for every named storm to hit North America in the past 20 years including: Super Storm Sandy, Hurricane Katrina, Hurricane Harvey, Hurricane Fiona, Hurricane Dorian, and more. We have completed a wide range of restorations, some of which were the most complex we've ever encountered.
Our storm damage restoration services include:
Property inspection and assessment
Water removal
Anti-microbial application
Drying, dehumidifying, air movement, and monitoring
Cleaning, odor removal, and sanitizing
Damage repair and construction
A Trustworthy Partner for Water Recovery
ServiceMaster Recovery Management is a trusted water recovery company, specializing in comprehensive commercial flood clean-up services. When businesses face water damage, our dedicated team of experts' springs into action. With years of experience and state-of-the-art equipment, we swiftly restore affected properties, minimizing downtime and preserving valuable assets.
From water extraction to structural drying and mold remediation, ServiceMaster Recovery Management offers tailored solutions to address the unique needs of each client. Our focus on quality and customer satisfaction ensures that businesses can resume operations promptly, with confidence in the thoroughness and excellence of the water recovery process.
ServiceMaster Recovery Management is a water damage restoration company that is dedicated to providing fast, reliable, and professional service to all of its customers. With years of experience in the restoration industry, ServiceMaster Recovery Management is a leader in water and fire damage restoration services, as well as flood and smoke damage restoration.
Our top restoration company of knowledgeable and experienced technicians is ready to help you get your life back on track after a disaster. ServiceMaster Recovery Management is committed to using the latest technology and techniques to restore your home or business quickly and efficiently.
SRM's Commercial Flood Restoration Service is the result of decades of experience and is designed to do so much more than just dry out your business – it's meant to get your business back up and running again as quickly as possible with as little disruption as possible.
Don't hesitate to contact SRM at the first sign of damage: (844) 993-0527.
Helping People
Like You Get Back
to Business
"The 2013 Calgary Stampede would not have happened without SRM."

- Tracy Reid, Director, Calgary Stampede

"Cleaning the Pentagon is an understatement. What you did was put life back into the building."

- Darryl Diggs, Assistant Services Program Director Department of Defense

"If it had not been for the team effort of SRM the hospital would have been closed."

- Darrin Ivey, Director of Support Services, Biloxi Regional Medical Center
See More Testimonials
Expertise That's Always There For You
Our Commercial Flood Cleanup
Has your property been damaged by a flood? As the water rises, so does the amount of damage to your property. This can be quite a stressful and traumatic event, but your first step in taking action can be as simple as calling our commercial water damage restoration team. We can help minimize the damage and financial impact a flood can have on your business. Our experienced team has the resources to respond effectively and will save you time, money, and stress by handling all aspects of your restoration process.
Our process includes:
Water extraction and mitigation
Structural drying
Property security and stabilization
Content restorations
Reconstruction
SRM can help you with these and any other service required to ensure a fast, successful restoration. Reach out to us today to get started.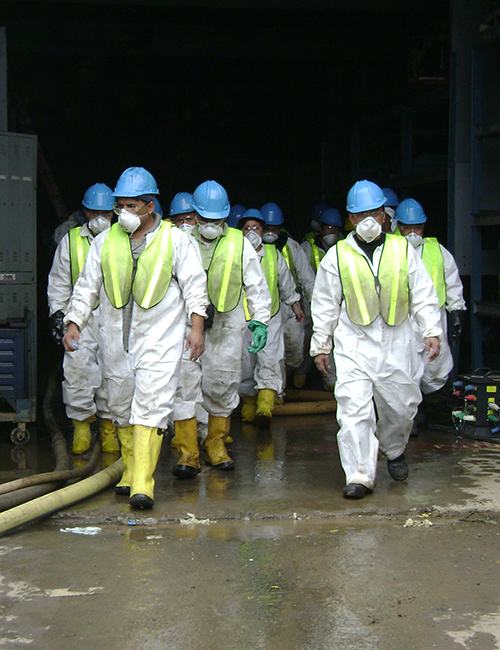 Commercial Roof Leaks, Failures & Storm Damage
Roof leaks can be quite destructive to your business, threaten your property's structure, And force you to partially or fully close your business until repairs are complete. Whether your roof damage was the result of a hurricane, tornado, or wind damage, a quick response is critical. Our expert team will respond quickly to get started on the restoration process. We have the latest tools and technology to get your business open again quickly. SRM employs the use of thermal imaging and moisture mapping, which allow us to observe all areas of potential water damage and treat them at their source. This technology will allow our team to identify damages that the eye might not see. In addition, our technicians are able to identify the specific areas which have been affected eliminating the need to remove excess material for drying such as drywall or flooring.
Our Water Damage Experts are Always Here for You
SRM offers 24-hour emergency flood and water damage services 365 days a year. When rising waters threaten your business, time is of the essence to ensure a successful restoration. Day or night, our team is standing by to take your call and get to work.
Our command centers employ technicians who are certified by the IICRC in Applied Structural Drying. We will use the most effective and timely methods to dry your building and everything inside it. This certification means that each of our technicians is prepared for your unique situation and any unique circumstances you may have. There is no one-size-fits-all approach to our recovery services, so you can always count on a customized solution for your property.
Our team is standing by to assist you. Reach out to us 24/7/365 at (844) 993-0527 to report a loss.