Government Facilities
Protect Your Business with Pre-Loss Planning and Commercial Damage Restoration
When a government building is affected by a storm or another disaster, the community it serves needs to have the peace of mind that it will be operational as quickly as possible after all danger has subsided. At ServiceMaster Recovery Management (SRM), we are prepared to get your government facility restored to its pre-loss state quickly and effectively. We provide commercial disaster restoration as well as pre-loss planning to help you prepare for the unexpected. We are a GSA-approve business and one of the premier large-loss restoration companies in the business. Our team is ready to do whatever is needed to ensure you maintain your facility's operations.
SRM has provided recovery management services to the following properties:
City halls
Courthouses
Banks
Prisons
Post offices
Police and fire stations
Government offices
Government buildings play an important role in the lives of the communities they serve. For that reason, having a partner that can help you fully prepare for disasters and respond when they strike is crucial to minimizing any downtime and ensuring seamless public services. Our project managers have extensive experience repairing these types of properties and will work closely with you to understand your unique requirements so that we can respond appropriately.
Government Facility Property Restoration FAQ
What kind of property restoration services do you provide?
ServiceMaster Recovery Management provides a variety of services to restore government facility property from water, fire, smoke, wind, mold, and other damage. We can restore, repair, and rebuild government buildings, as well as provide emergency services, furniture and electronics cleaning, document and data recovery, and temporary power services.
What is the typical response time?
Our response time depends on the urgency of the situation, the size of the job, and the availability of our crews.
Is there any type of government facility property ServiceMaster Recovery Management can't restore?
ServiceMaster Recovery Management can restore most government facility property. However, in the event that the property is deemed unsafe or unsalvageable, we may not be able to provide the restoration services. It is best to contact us first for an assessment.
We Always Ensure Compliance
When either planning ahead or helping you recover from a disaster, SRM always complies with all federal rules and regulations. We also understand the sensitive nature of the information that is held within many of these properties. Our team is trained and educated on the appropriate ways to restore documents, electronics, and sensitive records that maintain privacy and security. If security clearances are required, our team will take the necessary measures to obtain this clearance and will undergo background checks so that we aren't held up when it comes time to get to work on your property.
To learn more about our commercial damage restoration services for government facilities, reach out to us at (844) 993-0527.
Ready When
Disaster Strikes
Why SRM
Our Post-Storm Damage Assessment
The best way to save time and money after a storm or other disaster strikes your property is with an immediate and forceful response. SRM's comprehensive assessments include advanced tools and state-of-the-art technology. Our team will quickly be able to determine the full scope of your needs and get right to work.
Some of this technology includes:
Drones
360° cameras
Infrared moisture mapping
A comprehensive assessment of this kind will allow us to detect hard-to-find damage so that we make sure every problem is addressed. Having a full picture ahead of time will prevent future problems from arising and causing delays in the recovery. Using actual data and mobilized special equipment, SRM will help get your doors open as soon as possible.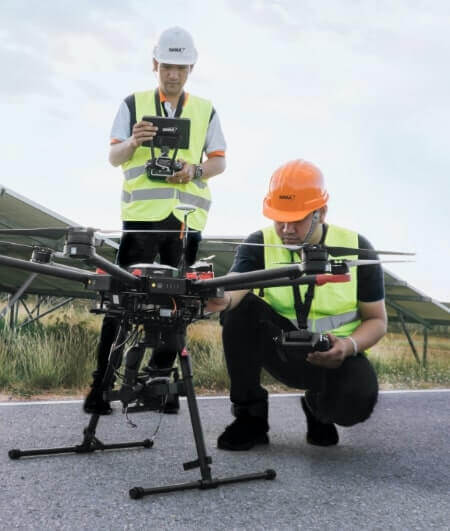 Ready for Anything
Over the years, SRM has seen just about everything. We have helped communities recover from the most destructive hurricanes in United States' history and have assisted small businesses with smaller-scale problems. When you partner with SRM, your government property will have the most experienced and dedicated team helping it always stay open and operational.
Some of our recovery management services include:
Global recovery solutions
Natural disaster recovery
Building stabilization
Pre-loss planning
Content restoration
Emergency response
SRM can assist you after fires, floods, storms, and countless other events you may face. If we've learned anything over the years, it is to be prepared for everything. No two disasters are the same, and every government property has unique needs and requirements. SRM will always respond accordingly and confidently.
Learn more about our Post-Storm Damage Assessment and then reach out to SRM at (844) 993-0527 to get started.