Why SRM?
We Are an Industry Leader In Recovery Management Services
Life can be unpredictable, and no matter how much you prepare, you can be caught off-guard by the unexpected. The same is true for owning or managing commercial facilities. The daily operations of any business can be quite complex and require flexibility to adapt to changes and problems as they arise. At ServiceMaster Recovery Management (SRM), we want to be your partner in protecting your commercial properties from whatever life brings.
From natural disasters to broken sprinkler systems and everything in between, we are prepared to assist you with both large-scale and small-scale losses. With our pre-loss planning and advanced equipment staging, SRM can help minimize the extent of damages to your property when disasters strike. We may not be able to prevent the inevitable, but we can help you get back on your feet as quickly as possible afterward.
Contact us now and hire the SRM Emergency Response Team! Our experienced team will provide you with quality and timely services when you need them most. We offer a comprehensive range of services to help your start rebuilding.
The SRM Difference
You may have a few choices when it comes to recovery management services and commercial disaster restoration, but many of your options will offer much of the same: mitigation and basic reconstruction. But following a disaster, you are going to need far more than that.
SRM is your true full-service partner in a fast, safe, and effective recovery. We will save you time, money, and hassle by providing a one-source solution. We can do everything from remove trees and debris to provide temporary power and lighting. Our comprehensive service package will be customized to your property so that we can cover everything that may be needed during your recovery.
Some ways we set ourselves apart from other recovery management services:
Comprehensive pre-loss agreements – By planning ahead and understanding everything you will need prior to the unexpected event, SRM can respond accordingly and proportionately. The SRM agreement will allow us to get right to work and get your business open faster.
Scalable network response – Though we are always here for our clients when hurricanes, tornadoes, and wildfires affect your property, SRM is also aware that smaller problems arise more frequently. Whether it's an overflowing toilet or an isolated fire, we will respond proportionally, whereas other companies either won't handle these situations or will over-respond with unnecessary resources, which may be costly to you.
Unparalleled resources – SRM is proudly backed by a nationally respected brand with over 65 years of experience. We have over 300 locations nationwide, which means we are never too far away. We have access to the most advanced tools and technology that will help us get your property restored to its pre-loss state faster and more efficiently than our competitors.
Our smartphone app – With our mobile app, you'll have access to advanced weather notifications, be provided with the latest news and resources, and can quickly contact our emergency call center to submit a property loss.
Equipment staging – When we get word that dangerous weather is imminent, we'll stage our equipment and resources near your property so that we can quickly respond as soon as any danger has subsided. This will allow us to get right to work and avoid problems such as closed roads or limited access to necessary resources.
Post-storm damage assessment – Before we start on your recovery, we'll do a thorough assessment of your property to determine the extent of damages. We can also tarp and board up areas to protect your property from further damage. A comprehensive post-storm assessment will allow for a thorough recovery and eliminate the need to fix problems in the future.
Centralized management – If you have multiple facilities across the country, it can be quite difficult to manage them all if you have multiple restoration partners. With SRM, we offer centralized management to eliminate you need to coordinate, interpret, and schedule multiple vendors across the country. We'll minimize confusion and maximize consistency.
These are just some of the benefits of partnering with SRM. During your consultation, we can further discuss the needs of your property and how we can customize our program to accommodate them. The choice is clear: we are the industry leader in commercial disaster restoration services.
To report a loss or to learn more about our commercial disaster restoration services, reach out to us at (844) 993-0527.
Helping People
Like You Get Back
to Business
"If it had not been for the team effort of SRM the hospital would have been closed."

- Darrin Ivey, Director of Support Services, Biloxi Regional Medical Center

"I am not only impressed by the work done by SRM but more importantly how it is done."

- Rich Faber, CFO, Vision Ease

"Walter, the (SRM) project manager for this project, was incredible."

- Jackie Venters, Senior Property Manager, Duke Realty
See More Testimonials
Expertise That's Always There For You
Our Commercial Services
Disasters can cause a wide range of problems for your business. Fires can result in widespread smoke and soot damage, and floods can lead to mold infestations long after the water is all dried up. At SRM, we provide thorough restoration services that cover every inch of your property. Our trained and experienced team knows where to look and what to look for to uncover every kind of damage your properties may have endured.
Some of our services include:
Water damage restoration
Smoke and fire damage restoration
Debris removal
Water extraction
De-humidification and moisture control
Mold remediation
Odor control
Emergency response
Pre-loss planning
These are just some of the more common services our clients need after a disaster. The recovery process can also require things like corrosion control, machinery restoration, document recovery, and so much more. You can rest assured that we are your one-source solution for a full recovery. All of this can be discussed with you during your consultation.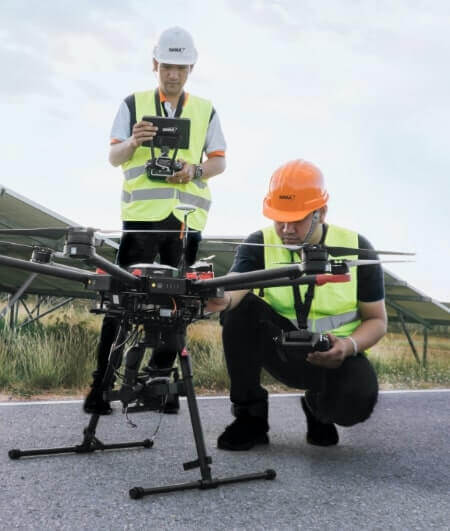 Always Here for You, Wherever You Are
ServiceMaster Recovery Management offers 24/7/365 availability so that we can always be there for you when you need us most. With over 300 locations throughout the county, we are never too far away. Our app provides you with one-click access to our team and our centralized management means that we can handle all your needs for all of your properties.
Contact SRM today and Get Help Now for your commercial property!