Large Loss Job Reporting
Clear, Concise & Transparent Communication
Eliminate confusion and save time with the best large loss reporting available. At ServiceMaster Recovery Management (SRM), we understand having the equipment and capabilities to complete a job is only part of what it takes for a successful commercial restoration. We know success depends on clear, concise communication from the very beginning of the project to the final invoice and completion of the job. For this reason, we have dedicated extensive time and resources to developing the best project communication and large loss reporting available.
From customized client portals, which include all relevant documents and information, to project documentation and daily project manager reports, every aspect of our large loss reporting has been designed to eliminate confusion, save clients time, and minimize potential discrepancies. The result of our dedication is the most effective large loss reporting in the industry. You don't just have to take our word for it. One of our recent clients had this to say:
"I want it to be made perfectly clear that the communication between SRM, our organization, our insurance representatives and other key stakeholders on this complex project – was an exemplary demonstration of consistent dissemination of critical information in the highest possible manner."
​Expert Solutions for Large Loss Restoration
ServiceMaster Recovery Management is a large loss restoration company that specializes in delivering best-in-class services to clients affected by catastrophic losses. We provide our customers with the highest quality of recovery and remediation solutions for disasters such as fires, floods, storms, or other catastrophes. Our team understands how critical it can be for businesses and individuals when facing property damage from these types of events—and we are dedicated to restoring buildings quickly so you can return to your normal daily activities faster than ever before.
At SRM Large Loss Restoration Services, our goal is simple: to get people's lives back on track after experiencing significant destruction because of natural disaster or manmade catastrophe. With decades of experience working within this industry sector coupled with cutting-edge technology designed specifically for quick response time; ServiceMaster Recovery Management has become one of the most trusted names among insurance adjusters around the country.
We Cover All the Bases
Large loss restoration projects are highly complex and involve many components and moving parts. From scheduling to equipment, personnel management to site logistics, each aspect needs to be managed correctly as well as documented properly and communicated in an effective manner. Proper, effective communication is the only way to eliminate confusion for all parties. SRM has developed the most sophisticated yet simple communication methods to ensure everyone involved in the restoration is kept up to date and properly informed.
This communication eliminates confusion by providing timely information on all aspects of the project. Every aspect of your restoration is well documented and clearly communicated to all stakeholders continuously. In addition, our standardized reporting means you receive the exact same information in the same format no matter how many properties you have. Each and every project follows the same protocols and procedures. This standardized approach saves you time and further eliminates confusion.
SRM prepares you for the worst and helps you recover from the unexpected. Partner with us today.
Ready When
Disaster Strikes
Why SRM
Full Accountability
When developing our large loss reporting, we recognized the need to include multiple stakeholders and provide a clear chain of communication. All too often other contractors fail to provide this clarity and the results can be disastrous. From misinformed decisions to misunderstood project scopes or sign-offs, all of these aspects create confusion and disrupt the restoration process. The SRM large loss reporting and communication provides a simple, direct way of communicating while providing redundant documentation.
This process is customized to each client's specific needs regarding communication chain, sign-off requirements, loss size dependencies, and more. All of these aspects mean you save time by not having to chase down information or relay it to other stakeholders. In addition, if questions arise there is a simple method of recounting past communication to obtain the necessary information. No other restoration provider has dedicated more time, effort, and resources to develop such an effective communication process.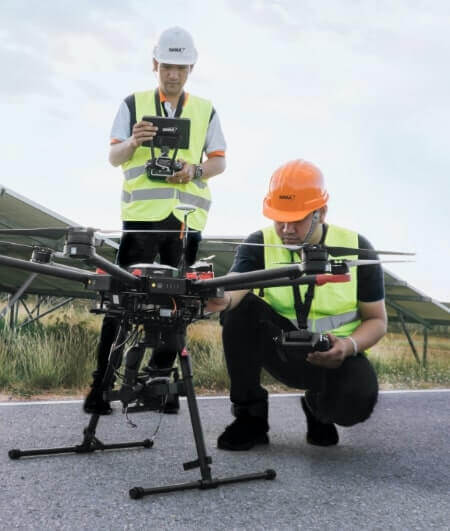 Our Comprehensive Damage Assessment
Minimize damage by securing your facility against further damage, beginning mitigation immediately based on actual data, and mobilizing specialized equipment as needed. All of these aspects are possible due to our comprehensive post-storm damage assessments. Our post-storm damage assessments can help minimize damage by providing the necessary information regarding securing the facility against additional damage. Often storm damage leaves a property vulnerable to the elements due to a compromised roof or broken windows. Our damage assessment will include these aspects and provide a recommendation to effectively secure these areas in order to limit additional damage.
Further, we can provide a solution and begin mitigation immediately based on the information. While other contractors may begin blindly moving equipment to your facility, often costing you unnecessarily, SRM can pull equipment from our advanced staging areas specifically for your needs. While this equipment includes mitigation equipment such as extraction units and dehumidifiers, SRM is able to take it even further and deliver support equipment such as temporary power, temporary lighting, hand washing stations, portable restrooms, and even fuel. These items are imperative to not only successfully restoring your property but doing so in the fastest, most effective manner, all while protecting your facility from additional damage.
Technology & Data-Driven Solutions
Get back in business faster by using our post-storm assessment data to develop an effective restoration plan and validate the loss for third-party stakeholders. After a facility is damaged by a storm or event, it is crucial to develop a restoration plan as quickly as possible so mitigation can begin. Our drone-assisted assessments provide a unique and previously unavailable viewpoint, allowing for the inspection of your facility's roof integrity, any potential areas that have been compromised, and possible safety concerns. In addition, SRM conducts post-storm moisture mapping, often identifying areas of moisture invisible to the naked eye.
This increased level of information allows SRM to not only develop the most effective restoration plan possible, but we are also able to validate the loss for third-party stakeholders. These stakeholders may include insurance representatives, adjusters, consultants, or others. By providing data and visual evidence, conversations become more productive and less reliant on subjective decisions.
​Lastly, we often find that our post-storm damage assessments and the accompanying information help facilitate client-side decisions. These decisions may include relocating residents to or from the property or allocating internal resources to various facilities or areas within the facility. Regardless of the specific situation, SRM believes the more informed clients are, the more equipped they are to make the right decisions.
With SRM by your side, you will always be prepared for the unexpected. Take the first step today toward protecting your properties tomorrow.