Post-Storm Damage Assessment
We'll Get to Work As Quickly As Possible
Save time and money by minimizing damage, beginning restoration faster, and making more informed decisions using our post-storm damage assessments. Our assessments offer the most comprehensive view of your loss and utilize state-of-the-art technology to deliver more data than any other post-storm assessment.
Planning and effectively preparing for potential property damages are key to the success of the SRM Advanced Recovery Program. However, we understand all the preparation in the world does not help if the post-storm response is inefficient. We have developed an effective response plan, including the most comprehensive post-storm assessments in the industry. Our post-storm assessment helps clients minimize damage, allows for a faster restoration plan development, and can also help with client-side decisions.
We deploy our highly trained scout teams to assess the damage to client properties. These teams use the latest state-of-the-art technology such as drones, 360° cameras, and infrared moisture mapping to deliver the most comprehensive post-storm assessment in the industry. We then communicate directly with our clients to discuss the data and recovery plans as needed. Due to the extensive data and information included, these discussions often aid client-side decisions such as the possibility of returning residents to the property or arranging temporary work environments. No other restoration contractor provides this level of information in post-storm damage assessments.
Minimize damage by securing your facility against further damage, beginning mitigation immediately based on actual data, and mobilizing specialized equipment as needed.
Expertise That's Always There For You
Getting Your Business Open Faster
All of these aspects are possible due to our comprehensive post-storm damage assessments. These assessments can help minimize damage by providing the necessary information regarding securing the facility against additional damage. Often storm damage leaves a property vulnerable to the elements due to a compromised roof or broken windows. Our damage assessment will include these aspects and provide a recommendation to effectively secure these areas to limit additional damage. Further, we can provide a solution and begin mitigation immediately based on the information.
While other contractors may begin blindly moving equipment to your facility, often costing you unnecessarily, SRM can pull equipment from our advanced staging areas specifically for your needs. While this equipment includes mitigation equipment such as extraction units and dehumidifiers, SRM can take it even further and deliver support equipment such as temporary power, temporary lighting, hand washing stations, portable restrooms, and even fuel. These items are imperative to not only successfully restoring your property but doing so in the fastest, most effective manner, all while protecting your facility from additional damage.
Get back in business faster by using our post-storm assessment data to develop an effective restoration plan and validating the loss for third-party stakeholders.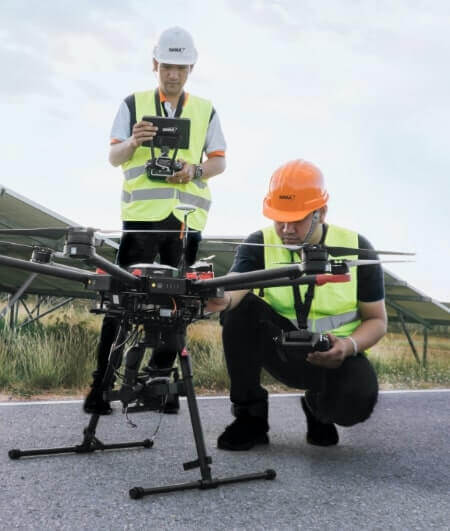 Disaster Restoration Services For Businesses & Commercial Buildings
Fast, Comprehensive Assessments
After a facility is damaged by a storm or event, it is crucial to develop a restoration plan as quickly as possible so mitigation can begin. Our drone-assisted assessments provide a unique and previously unavailable viewpoint, allowing for the inspection of your facility's roof integrity, any potential areas that have been compromised, and possible safety concerns. In addition, SRM conducts post-storm moisture mapping, often identifying areas of moisture invisible to the naked eye. This increased level of information allows SRM to not only develop the most effective restoration plan possible, but we are also able to validate the loss for third-party stakeholders. These stakeholders may include insurance representatives, adjusters, consultants, or others. By providing data and visual evidence, conversations become more productive and less reliant on subjective decisions.
Make More Confident Decisions
Lastly, we often find that our post-storm damage assessments and the accompanying information help facilitate client-side decisions. These decisions may include relocating residents to or from the property or allocating internal resources to various facilities or areas within the facility. Regardless of the specific situation, SRM believes that the more informed clients are, the more equipped they are to make the right decisions.
SRM prepares you for the worst and helps you recover from the unexpected. Partner with us today.