Educational Institutions
Commercial Damage Restoration for Schools, Colleges & Universities
Few industries need a faster response to disasters more than educational facilities. These properties provide invaluable services for children and adults alike and need to be immediately assessed and restored when storms, floods, fires, or any other disaster strikes. The team at ServiceMaster Recovery Management (SRM) has extensive experience helping educational institutions recover from a variety of disasters. We are a commercial damage restoration company with over 400 locations nationwide and we are backed by a nationally respected brand with over 65 years of experience. For educational facilities of any kind, we are the ones to turn to for a fast, safe, and complete recovery.
SRM is ready to assist the following educational facilities:
Daycares and nursery schools
Elementary and middle schools
High schools and trade schools
Colleges and universities
Training facilities
Museums
Educational facilities need to be safe spaces where students can learn. Recovering from a storm or other disaster requires more than just cleaning up and rebuilding. A full recovery means fully restoring every aspect that makes an educational facility conducive to a safe learning environment. Our disaster restoration team understands the unique needs of these types of properties and will work closely with you to learn about any special requirements your facility may have.
Avoid Disruptions to Learning
For educational facilities, a fast response to a disaster is not just necessary, it's mandatory. A damaged educational facility can greatly impact students' ability to learn and can set them back in their schooling. Even a small disruption to learning can cause widespread problems for teachers, parents, and students. SRM wants to minimize any disruptions and offers comprehensive services to help prevent them.
Our educational institution restoration services include but are not limited to:
Mold remediation
Reconstruction
Document, electronics, and records recovery
With over 400 locations nationwide, we can mobilize our team to be ready before any problems even arise. As an SRM Partner, you'll have a one-source team that will handle everything from pre-loss planning to post-disaster cleanup and recovery. We do more than respond to problems – we help prepare for them. With SRM on your side, we'll create a pre-loss agreement that looks ahead to understand what actions will need to be taken after disaster strikes. This will allow us to waste no time getting to work when you need us most. When disaster strikes, we are available 24/7/365 with an emergency response.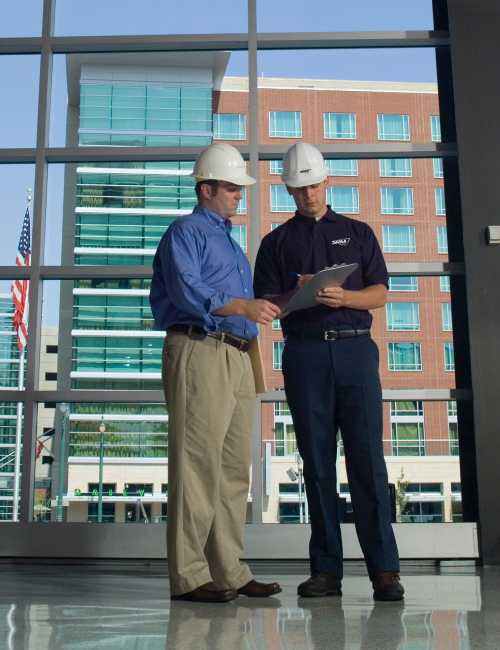 Resource Staging and Equipment Support for Educational Facilities
If dangerous weather is imminent, SRM will prepare for the worst by mobilizing the best. With over 400 locations nationwide, wherever you are, you can be confident that our team will be ready and waiting to assist you the moment any danger has subsided. Unlike other companies, we stage equipment and resources near your property so that we can get right to work without wasting a moment of time. Other companies wait to mobilize their team after a disaster has struck, sacrificing precious time and potentially encountering issues such as closed roads or a lack of electricity. SRM thinks ahead and is ready for anything.
To learn more about our storm damage restoration for educational institutions, reach out to us today at (844) 993-0527.