Advanced Weather Notifications
Helping Commercial Owners Prepare for the Worst
While many restoration contractors claim they act as a partner to their clients, ServiceMaster Recovery Management (SRM) is the only restoration provider that works in complete partnership with our clients to prevent damage or minimize the severity. Most contractors simply respond to your loss once you have experienced damage, doing little or nothing beforehand. Further, contractors rarely spend their own money and resources to actively protect their clients' facilities or help prepare so damages can be minimized.
SRM is not like the others. When developing our Advanced Disaster Recovery program, we engineered a fully proactive solution, covering all aspects of client service, communication, and resource deployment. This dedication is illustrated by our past and continued investment in resource mobilization and advanced equipment staging along with our investments into systems that we utilize to help best protect client facilities.
One of those systems is our advanced weather alert system. The most sophisticated disaster alert system available today, our system combines the latest weather monitoring technology, a database of client properties, and sophisticated communication tools to deliver the most effective, customized advanced weather alerts to client emails and cell phones via our proprietary mobile app. Our customized advanced weather alerts are utilized for all major weather events or area-wide disasters.
SRM helps you minimize loss severity by providing advanced weather alerts customized to include your property data. To learn more, reach out to us today at (844) 993-0527.
Preparing You for Anything & Everything
From hurricane tracking with potential property impacts to regional rain events, wildfires, polar vortex reports, and more, you can rest assured you are receiving the most advanced weather alerts available in the palm for your hand, customized to your exact needs.
This allows you to make informed decisions and allows us to plan and prepare accordingly to best protect your property exposure. Similar to the way SRM is revolutionizing how commercial facilities think about disaster response with our Advanced Disaster Recovery program, we are doing the same for damage recovery and minimizing loss severity. Other contractors may mention minimizing loss severity, but they are only referring to reacting quickly to minimize the damage from progressing. SRM knew there was a better way to partner with clients to help minimize property loss or even avoid damage altogether. By using proven systems and protocols combined with a proactive attitude, SRM has developed a comprehensive approach to minimizing damage and loss severity.
Data-Based Decision Making
The success of the SRM approach begins with extensive client data, which allows us to make data-based decisions before potential damage occurs. By having your properties mapped in our system, we can provide customized advanced weather alerts showing your specific properties and details on how they may be impacted. We can then discuss options with you to determine the optimal preparation and planned response. These preparations often help clients avoid damage through preventative measures or minimize loss severity through steps such as shutting off the gas supply, arranging temporary power needs, or other aspects.
Always Ready to Get to Work
In addition to preparation and prevention, SRM will mobilize equipment and resources through our Advance Disaster Recovery program, utilizing our proactive equipment staging based on your specific needs. This can range from large-scale mitigation and drying equipment to temporary power or lighting. We mobilize the equipment for your specific anticipated needs at no cost to you. This equipment is then strategically staged in areas we forecast to provide the earliest access to your facilities. Many competitors rely on post-event mobilization, which is often impossible or, at a minimum, delayed due to damaged infrastructure such as blocked roads or bridges being closed.
Lastly, having your facility location data combined with our Advanced Weather Alerts allows us to coordinate post-event site evaluations such as property assessments or drone-assisted roof inspections. These evaluations allow us to not only minimize further damage by securing any compromised areas of your building, but we can also immediately begin developing your restoration plan and ultimately get you back in business sooner. Often, while other restoration companies are still trying to arrange to get someone on site to evaluate the loss, SRM has already started mitigation.
Save time and resources by eliminating the need to monitor weather across the country or purchase expensive weather monitoring systems.
Helping People
Like You Get Back
to Business
"The 2013 Calgary Stampede would not have happened without SRM."

- Tracy Reid, Director, Calgary Stampede

"Cleaning the Pentagon is an understatement. What you did was put life back into the building."

- Darryl Diggs, Assistant Services Program Director Department of Defense

"If it had not been for the team effort of SRM the hospital would have been closed."

- Darrin Ivey, Director of Support Services, Biloxi Regional Medical Center
See More Testimonials
Ready When
Disaster Strikes
Why SRM
Expertise That's Always There For You
Save Time, Save Money, Save Your Business
Our Advanced Weather Alerts help clients save time and money by helping minimize potential damage. In addition, our system provides immediate savings by eliminating the need for clients to spend money on a weather monitoring system and commit the time required to monitor weather across the country.
Our system is the most sophisticated disaster alert and weather monitoring system available. Far more accurate than publicly available weather tools, our proprietary system utilizes the most advanced weather tools, which provide more data and information relevant to potential storm activity or weather impacts such as freezing temperatures. Specifically engineered to meet our strict requirements, everything about our system was built with commercial property client needs in mind. The level of accuracy and customized details is simply not available from any public site or service which other restoration companies rely on. When you become an SRM client, you can be assured you have the power of the most superior disaster alert and weather monitoring system and team on your side.
Weather Alerts & So Much More
In addition to providing you with the most advanced weather data and alerts, we also provide easy access to relevant information such as road closures, power outages, notices, and more. Through our custom-developed information centers, developed specifically for each event, you and your company have an easy way to stay up to date on the latest developments, often including our SRM Ground Reports from our personnel in the field. These Ground Reports provide eyes-on-the-ground information not available through traditional media channels. In addition, unlike media outlets, we are not concerned with creating interest by dramatizing events. What this means for you is an accurate view of the impact.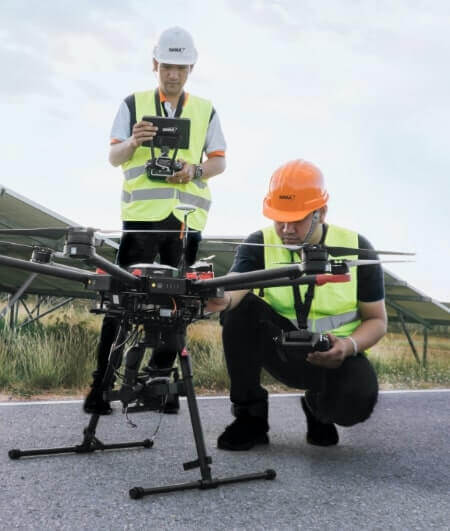 A Leader in Our Industry
As an organization, SRM has and continues to invest heavily in engineering, developing, managing, and constantly improving our disaster alert and weather monitoring system because our experience tells us the better informed you are, the better decisions you make, especially when it involves preparing for a storm or potential property damage. No other commercial restoration company offers this level of protection and preparation by providing data and detail direct to clients in such a sophisticated and easy-to-use format. This high level of information combined with our extensive expertise and simplistic delivery via our mobile app means you can be confident your properties are best prepared to minimize damage and reduce loss severity.