Commercial Fire Damage Restoration Services
Reliable Recovery Management Services for Properties of All Sizes
If your property has been affected by a fire, the damage can be quite extensive. Even after the flames have been extinguished, further damage can result from soot and smoke, and these damages can sometimes be even more destructive than the fire itself. At ServiceMaster Recovery Management (SRM), we offer comprehensive fire damage restoration services, which include smoke and soot damage restoration and odor removal services for small and large-scale disasters.
SRM offers fire damage restoration and repairs for all types of commercial facilities including:
Senior living communities
Office buildings
Retail spaces
Healthcare facilities
Government facilities
Places of worship
Hotels & Hospitality
Educational institutions
Manufacturing plants
Apartment communities
If your business has suffered from fire damage, don't wait - act now! Contact our professional fire damage restoration company today and get the help you need to get your business back on track.
Don't Delay: Time is Critical
Fire damage – or any damage for that matter – can be quite stressful. SRM is always here to guide you through a crisis. You must take swift action as soon as all danger has subsided. Many of the items in your property, from flooring to furniture, may be made of synthetic materials. These materials can go from salvageable to un-salvageable quickly and your overall loss may become greater. With a call to our fire damage restoration team, we can combat these losses with an immediate response.
COMMON FIRE Causes & Types
There are many causes of commercial property fires. SRM is ready for them all. Over the years, we have seen just about everything. Some of the most common fires include:
Electrical fires
Break room fires
Natural fires caused by wildfires or weather
HVAC system malfunctions
Each of these fires requires specific procedures and methods to fully restore the property and get your business open again. Our fire restoration technicians have the expertise you need during this difficult time.
There are four main types of fires commercial properties endure:
Protein fires – When food from a stove, oven, or toaster burns, it can leave behind smoke residue and foul odors.
Complex fires – When natural or synthetic items in your property burn, they result in black residue being left behind on contents and surfaces as well as synthetic smoke odors. They often require emergency corrosion mitigation to protect some surfaces.
Natural fires – When trees, bushes, and shrubs burn and smoke penetrates a property from the outside, they leave behind smoke residue and odors. They are often caused by wildfires.
Furnace malfunctions – When heating appliances like oil-fired furnaces malfunction, they can cause smoke to spread throughout a building.
ServiceMaster Recovery Management, is the leading fire restoration contractor near you. We provide comprehensive services to help you recover from fire damage. Our team of experienced and certified technicians will work diligently to restore your property and belongings to their pre-loss condition.
At ServiceMaster Recovery Management, we understand the unique challenges that come with fire damage. We strive to provide the highest quality services to help you get your home or business back to normal as quickly as possible.
Our fire restoration cleaning company offers a variety of services to help you recover from fire damage. We use advanced cleaning methods and products to remove soot and smoke from walls, furnishings, and other surfaces. We also offer structural repairs and reconstruction services to ensure your property is restored to its pre-loss condition.
Commercial Fire Damage Restoration FAQ
How soon should I contact ServiceMaster Recovery Management after a commercial fire?
It is crucial to contact ServiceMaster Recovery Management as soon as possible after a commercial fire. Our 24/7 emergency response team is ready to assist you immediately.
What does the commercial fire damage restoration process involve?
Our skilled technicians will assess the extent of the fire damage, including smoke and soot residues. We will then develop a comprehensive plan to remove debris, clean and deodorize the affected areas, and restore the property to its pre-fire condition. Our team will also address water damage caused by firefighting efforts.
Can ServiceMaster Recovery Management help with insurance claims for commercial fire damage?
Absolutely! ServiceMaster Recovery Management has extensive experience working with insurance companies for commercial fire damage restoration.
Restoring Your Property After Fire
ServiceMaster Recovery Management offers professional fire help services to assist you in the aftermath of a fire incident. Our dedicated team of experts understands the devastation and stress caused by fire damage, and we are here to help you restore your property. With our extensive experience and advanced equipment, we provide efficient and reliable fire removal services.
From assessing the extent of the damage to debris removal, cleaning, and restoration, we handle every step of the process with utmost care and precision. Trust ServiceMaster Recovery Management for comprehensive fire help services and let us restore your property to its pre-fire condition.
Whether your property was damaged by fire itself or indirectly by smoke and soot, the damage can be widespread. Soot and smoke can get into ventilation systems and affect far-reaching areas of your property. The team at SRM knows exactly where to look and how to rid your property of smoke and soot.
Helping People
Like You Get Back
to Business
"If it had not been for the team effort of SRM the hospital would have been closed."

- Darrin Ivey, Director of Support Services, Biloxi Regional Medical Center

"It is without hesitation I recommend SRM for disaster recovery services."

- Bob Currie, Director of Facility Services, Iowa State University

"The 2013 Calgary Stampede would not have happened without SRM."

- Tracy Reid, Director, Calgary Stampede
See More Testimonials
Ready When
Disaster Strikes
Why SRM
Expertise That's Always There For You
Immediate Response, Quick Action
When you contact SRM to report a loss, our team responds immediately so that they can get right to work on your fire damage restoration. We use a proven smoke removal and recovery process that includes everything from emergency pre-cleaning to content cleaning and pack-out to structural cleaning and deodorization. Our team is also able to clean items made of at-risk materials like aluminum, brass, chrome, porcelain, and marble.
Smoke & Soot Damage
Often, smoke and soot damage can be more extensive than the damages caused by the flames themselves. Smoke and soot can get into just about everything and anywhere. The smell can permeate everything from walls to fabrics to surfaces, and soot can make its way into air ducts and corners and crevices of your property. This requires proper, expert smoke damage restoration and odor removal to keep your environment clean and healthy for you, your employees, and your guests.
The Difference Between Smoke & Soot
A common question we get is about smoke and soot and the difference between the two. Smoke is the solid, liquid, and gaseous products of combustion released into the air, while soot is fine, black particles composed of carbon and produced by the incomplete combustion of fuel. Both can be damaging and difficult to clean, and both require the attention of professional smoke and soot damage restoration experts.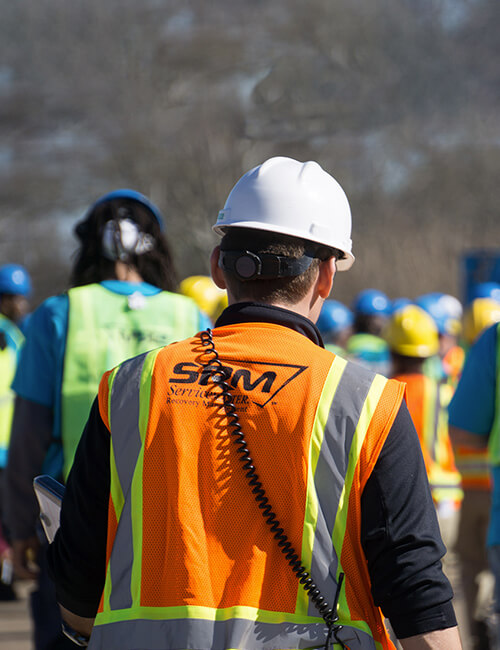 Assessing Your Structure
One of the most important steps of the recovery process is the initial assessment of your property. Your facility must be evaluated and stabilized against any possible structural damages caused by the fire. A fire can weaken the integrity and safety of your structure, so it's critical that you work with an experienced commercial restoration company that knows exactly what to look for and the appropriate steps to ensure the safety of your property and everyone in it. Working with structural engineers, SRM will properly evaluate your facility and determine if stabilization needs to be performed.
Fires may also result in extensive charring of surfaces that will need to be replaced. If we are unable to restore a surface, we will quickly remove it from your property. This requires highly trained technicians who understand how to remove the unsalvageable portions and restore what can be restored.
SRM works with business owners to develop a plan that will get you back in business as quickly as possible. We analyze the impact fire has on your property, evaluate solutions, and implement a plan to get your business back to full operation. We also offer temporary solutions to help you while your property is being restored. Over the years, we have implemented everything from temporary dining rooms at senior living facilities, off-site offices, temporary storage for damaged warehouses and much more. We do whatever it takes to keep your business running.
Rapid Response Time
Just like with other disasters, fire damages require immediate attention to help minimize any further destruction to your property. Fire damage can continue to damage your property after the flames are extinguished, mostly due to the smoke and soot. The longer it is left un-addressed, the more opportunity it has to discolor surfaces, deteriorate protective coatings, and compromise the structural components of your property. This is why ServiceMaster Recovery Management makes ourselves available24/7/365 and will respond immediately when you call.
When you contact us, we don't just send someone to provide an estimate. Our team will arrive at your property equipped with everything we need to get right to work so that we can minimize as much of the damage as possible. Our network is built for this kind of rapid response. We will arrive on-site within 4 hours with the appropriate equipment and resources. We have more large loss capabilities than others in our industry and are confident we can quickly and fully restore your property.
There is one number to call when disaster strikes. Reach out to SRM today at (844) 993-0527.