Pre-Disaster Program
Your Commercial Damage Restoration Partner
When it comes to keeping your commercial property safe, the best defense is a good offense. Many restoration companies are only there for you after your property is in need of repairs. At ServiceMaster Recovery Management (SRM), we believe that effective preparation is the best way to help minimize the extent of damages when disasters strike. That's why we offer the industry's only Pre-Disaster Program.
Our Pre-Disaster Program is not like other outdated disaster response programs. SRM provides unrivaled value to our commercial clients before, during, and after a property loss. We tailor our recovery solutions to the unique needs of each property and we focus on developing plans that help to minimize risk, limit claim severity, and significantly reduce the interruption to your business. This plan is the result of not only decades of experience but input and feedback from clients we have worked with as well as other industry leaders. SRM believes in investing in the future and has the people, technology, resources, and systems to deliver the most unique program of its kind. We have revolutionized how commercial property owners and managers look at their disaster preparedness.
With an emphasis on prevention and mitigation, our priority response program is the best way to ensure your business is prepared for any disaster.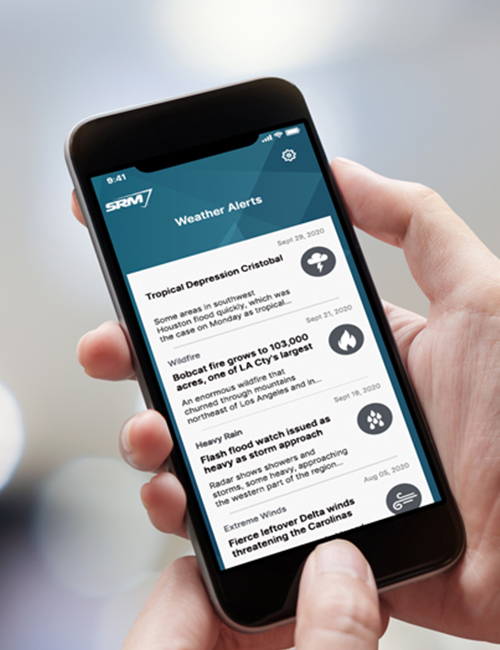 What Makes Our Program Different
Your business deserves the best. That means the standard response programs of the past simply won't cut it. Other programs simply offer pre-approved pricing, fast response, and a dedicated account manager. At SRM, we believe that should be the bare minimum and offer our clients this and so much more. You and your business deserve a proactive partner that will be there before disaster strikes to help you best prepare. We also offer advanced, innovative processes that can handle losses of all sizes along with the equipment and personnel needed to handle the largest recovery jobs.
Our program is different because we offer:
A True Partnership Program – We work closely with our clients so that we can accurately plan ahead and respond. We also offer customized advanced weather notifications, power and fuel procurement, advanced resource and equipment staging, and more.
Scalable "Reach-Back" Capabilities – SRM sets ourselves apart from our competitors simply by having more locations, more first responders, more employees, and more equipment, allowing us to quickly respond when you need us most.
Centralized Process – Many years of experience have allowed us to develop our process to meet the very specific needs of our commercial property clients.
With these features and more, SRM is proud to offer our clients the industry's highest priority response program. We developed every aspect of this program with our clients' needs in mind, from property preparation and planning to establishing lines of communication for when threats arise. By signing up for our program, our clients are gaining a partner in protecting their property from the various disasters that can occur. Best of all, this program is offered free of charge to our clients.
Expertise That's Always There For You
Any Size Loss, One Solution
Many business owners fear large-scale disasters, yet 84% of commercial property losses are smaller in scale. Yet even small disasters and damage can severely impact your business. Some examples of smaller problems include broken sprinkler systems, small kitchen fires, and burst pipes. SRM will be there for disasters of all sizes and scopes. Some of our competitors either don't respond to these types of situations or over-respond, which can create unnecessary costs. Our first-response network will respond appropriately and efficiently regardless of how big or small the loss.
To learn more about the industry's best pre-loss program, reach out to our commercial damage restoration team today at (844) 993-0527.