Storm Damage Restoration Services
We'll Be by Your Side After Hurricanes, Tornadoes & More
At ServiceMaster Recovery Management (SRM), we are committed to helping commercial property owners and managers and communities recover from the destructive impacts of weather events. From tornadoes to hurricanes to blizzards, we have the resources and equipment needed to quickly respond to your situation and get to work on the recovery. For commercial properties, the damage extends beyond the physical property. Every minute of downtime can hurt a company and lead to additional damages in the form of lost revenue. There is one company you should entrust with the massive responsibility of getting your business up and running again. SRM has the proven processes, techniques, and latest technology to do so quickly and safely.
For many companies, the combination of property damage and revenue loss is too much to recover from. The team at SRM will develop and customize an effective and efficient commercial restoration program that will help our clients overcome these obstacles.
If your business has been affected by a recent storm, don't wait any longer to take action! Contact our team of experts today and get an assessment of the storm damage to your business.
Hurricane Recovery
One of the most destructive weather events, hurricanes are responsible for billions of dollars of damage every year in the U.S. and Canada. They are particularly destructive because they can cause wind damage, flooding, and structural failures. On top of that, they often knock out infrastructure such as power and fuel, which further complicate matters. ServiceMaster Recovery Management is fully prepared for the most powerful and destructive storms. We have extensive experience and have helped commercial properties recover from some of the worst hurricanes in North America's history. SRM has been on location for every named storm in North America over the past 20 years.
These are the top most destructive North American hurricanes. SRM was there for every one of them:
Hurricane Harvey, 2017: $125B
Hurricane Katrina, 2005: $108B
Hurricane Sandy, 2012: $71.4B
Hurricane Ike, 2008: $29.5B
Hurricane Andrew, 1992: $26.5B
Hurricane Wilma, 2005: $21B
Hurricane Irene, 2011: $7.3B
Hurricane Charley, 2004: $15.1B
Hurricane Rita, 2005: $12B
Hurricane Frances, 2004: $9.5B
Hurricane Fiona, 2022: $800M
Hurricane Dorian, 2019: $105M
ServiceMaster Recovery Management is a full-service storm damage restoration and natural disaster cleanup company with decades of experience in helping homeowners and businesses get back on their feet after experiencing a catastrophic event. We specialize in providing fast, reliable, and comprehensive services that include water extraction, structural drying, mold remediation, and content cleaning. Our experienced technicians are available 24 hours a day, 7 days a week, to respond to storm damage and natural disaster calls.
No matter your location, ServiceMaster Recovery Management provides storm damage restoration services near you. Our technicians are well-trained and certified in the latest technologies, allowing us to assess the situation and develop a customized plan to restore your property. We understand every situation is unique and requires a personalized approach. That's why we pride ourselves on providing the highest quality of service to get your property back to pre-loss condition. Our team is passionate about helping people in their time of need; that's why we are committed to providing the best service possible.
SRM has handled hurricanes of all sizes and has helped facilities of nearly every type recover. This is important because no two properties are ever the same and each will require unique approaches. Restoring an office complex is quite different than restoring a school or hospital. Our team has expertise in each of these industries and will know how to approach each project. We are your partner in getting your business back to normal as fast as possible without ever sacrificing quality.
Storm Damage Restoration FAQ
What areas does ServiceMaster Recovery Management provide storm damage restoration services in?
ServiceMaster Recovery Management provides storm damage restoration services in most regions of the US.
How long will the storm damage restoration process take?
ServiceMaster Recovery Management strives to provide efficient and thorough storm damage restoration services. The timeline will depend on the type and amount of damage sustained. We can provide an estimate once we assess the property.
What kinds of storm damage can ServiceMaster Recovery Management restore?
ServiceMaster Recovery Management has extensive experience in restoring and repairing damage caused by storms, floods, hurricanes, and tornadoes.
Efficient Commercial Storm Restoration Solutions
ServiceMaster Recovery Management is a leading storm clean-up company specializing in commercial storm damage restoration. When severe weather wreaks havoc on your business, our skilled team is ready to spring into action. We understand the importance of prompt and efficient clean-up to minimize disruptions to your operations.
With years of experience and cutting-edge equipment, we tackle debris removal, structural repairs, and more, ensuring your commercial property is restored to its pre-storm condition. Trust ServiceMaster Recovery Management to provide comprehensive solutions and exceptional service, helping you recover smoothly from the impacts of nature's fury.
To learn more about our storm damage recovery services, reach out to us at (844) 993-0527.
Helping People
Like You Get Back
to Business
"Your support of Miami's crew during this disaster recovery period will have lasting effects not only onboard Miami, but to our Navy and our Nation."

- CMDR R.E. Meyer, Commanding Officer USS Miami (SSN 755)

"I have nothing but the utmost respect for their work ethic and 'can do' attitude."

- Troy Walls, Corporate Operations Manager, Aspen Products

"Cleaning the Pentagon is an understatement. What you did was put life back into the building."

- Darryl Diggs, Assistant Services Program Director Department of Defense
See More Testimonials
Expertise That's Always There For You
Tornado Recovery Services
Believe it or not, all of North America is susceptible to tornadoes. They are more common in the central United States and southern Canada, but the team at ServiceMaster Recovery Management is ready to help you recover from them no matter where you live. There are more than 1,200 tornadoes per year, on average, in the U.S. and they can quickly cause widespread property damage. Our team is always available when these unexpected events strike and will help get your business restored to its pre-loss state.
Tornado cleanups require the skills of many different areas, including tree and debris services, water mitigation, tarping and board up, construction, and more. SRM is your resource for all of these services and more. We have the expertise and established relationships to fully handle every aspect of your restoration from start to finish. Working with your dedicated account manager and on-site project manager, you can be assured your recovery goes as smoothly as possible.
Protect your properties from the unthinkable with SRM's recovery management services. Get started with us today.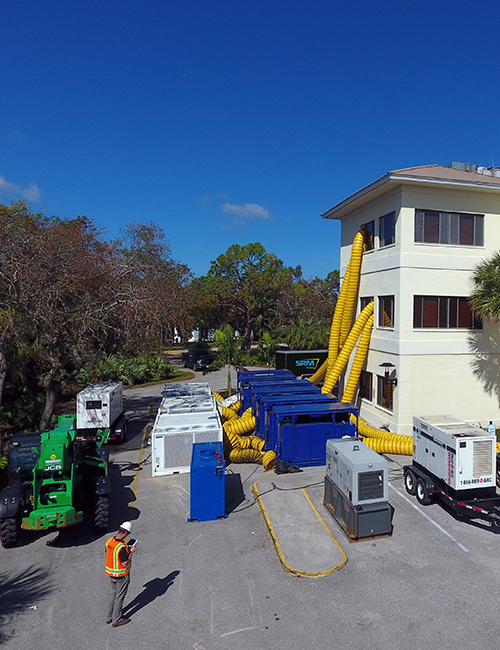 The Importance of Great Communication
Restoring a property to its pre-loss state requires a lot of moving parts and is, to put it mildly, quite complex. The key to a successful recovery is communication. The SRM team will always communicate clearly and concisely every step of the way. From the moment we arrive until the final invoice, we put tremendous value on communicating with all stakeholders to ensure there are never any surprises.
SRM is available 24/7/365 and will always be there for you when you need us. When the danger has subsided, give our team a call and we will be by your side to assess your property and get to work on the restoration.
Ready to report a loss? Give us a call today at (844) 993-0527.