Hurricane Preparedness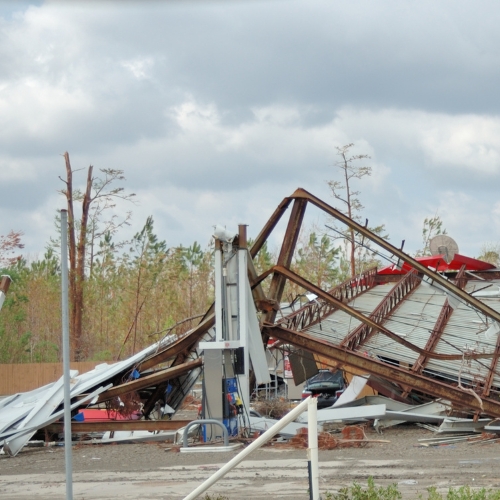 Hurricanes are powerful storms that can cause widespread devastation within a matter of minutes. High winds, heavy rainfall, storm surges, flooding, rip currents and tornadoes can attack your community with full force, leaving you vulnerable and unsure of what to do next. When a disaster strikes, a quick and adequate response is your only chance to stay safe and recover in short order. To react fast and effectively, you need to be well prepared. If you're a business owner, proper disaster preparedness takes on even more importance – you need to ensure your safety and the safety of your employees, customers, and everyone else who happens to be in your facility when an emergency occurs. The best defense is a good offense. Follow these tips from the experts at ServiceMaster Recovery Management to create the best hurricane preparedness plan for your business.
Find out if your area is susceptible to hurricanes and flooding. As a general rule, hurricanes typically affect all Atlantic and Gulf of Mexico coastal areas, Puerto Rico, the U.S. Virgin Islands, Hawaii, parts of the Southwest, the Pacific Coast, and the U.S. territories of the Pacific. If you need help determining your community's flood risk, use the interactive flood map created by the Federal Emergency Management Agency (FEMA).
Ready.gov has a detailed list of what to do when a hurricane approaches, strikes, and recedes. Share information with your employees about the differences between hurricane watches and hurricane warnings, as well as what to do at each stage of an approaching hurricane, so that you can prepare for the worst. Then, identify key things you should do when it's time to evacuate in the face of a hurricane.
An emergency kit can be a life saver in dangerous hurricane situations. Stock it with non-perishable food, bottled water, batteries, flashlights, first aid supplies and medication, and anything else you may need if you have to leave quickly. Store all of your emergency items in a waterproof and lightweight container. Then, place it somewhere that can be easily accessed during an evacuation.
Prepare Your Employees
First, improve your organization's knowledge about hurricane safety basics by discussing differences between hurricane watches, warnings, and evacuation notices. Emphasize the importance of your employees adhering to these notices, which are issued by the National Weather Service as well as state and local governments. Next, turn your discussion to how your employees should handle a hurricane. Establish a communication plan that allows organizational leaders to reach out to employees, updating them on any business or road closures and ensuring each employee is safe. A text-messaging system can be highly effective should phone lines go down during a hurricane.
Establish a Plan for Technology & Important Documents
While protecting your employees is paramount, ensuring your technology and important documents survive a hurricane is important as well. The loss of your organization's technical systems and data can be costly and can inhibit company productivity. Keep a record of the serial numbers of all technology devices so that you can file a claim with your insurance provider should they become damaged or destroyed. If your organization houses a large quantity of paper documents, start creating electronic backups now. Store this backup data offsite in the event of a natural disaster. If you have a limited number of paper documents, FEMA encourages you to store them in a flood-proof box when possible.
Practice, Practice, Practice
Take that logistical planning one step further by running mock scenarios for a hurricane. FEMA recommends creating different flood-related scenarios and presenting them to your team. Allow them to troubleshoot the challenges and devise an effective hurricane preparation plan. Presenting different scenarios offers another layer of preparation that will give your organization confidence should an actual hurricane event occur. The more you prepare, the safer your business will be – both during a storm and after one hits.
A good business disaster plan will help protect lives, equipment, and property, minimize financial loss, and expedite recovery. You and your business deserve a proactive partner that will be there before disaster strikes to help you best prepare.
ServiceMaster Recovery Management
offers advanced, innovative processes that can handle losses of all sizes along with the equipment and personnel needed to handle the largest recovery jobs. Learn more about our
Pre-disaster Program
 or contact us at
844-993-0527
.