The U.S. National Hurricane Center has issued a rare tropical storm watch for Southern California as Hurricane Hilary turns north and threatens the southwest U.S. with heavy rain and high winds. The tropical storm watch is in effect from the United States/Mexico border to the southern edge of Los Angeles County, meaning all of San Diego and Orange County are included. Even though hurricane season began in June, according to experts the three most active months for hurricanes are August, September and October.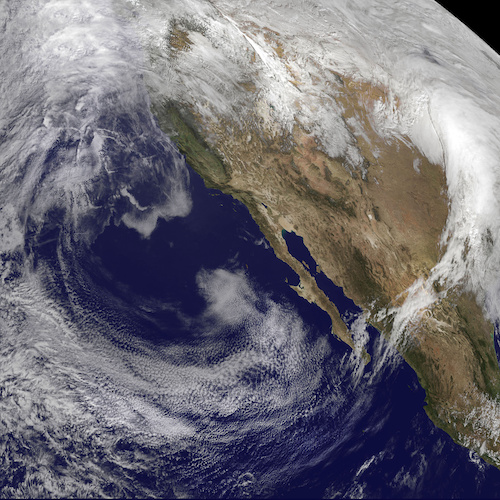 Early Friday morning Hurricane Hilary strengthened to a large and powerful category 4 hurricane. Fluctuations in intensity are likely over the next day or so, and weakening is expected to begin Saturday. However, Hilary is expected to continue as a hurricane when she approaches the west coast of the Baja California peninsula late Saturday into Sunday. Hilary is expected to weaken to a tropical storm Sunday afternoon before it reaches southern California. Significant flooding impacts are possible across portions of the southwestern United States this weekend and early next week.
As Hilary moves northward, the storm will make a close pass of Baja California Sur Sunday morning and produce maximum sustained winds of 74-95 mph along the coast. Gusts with this close pass can reach 80-100 mph. Southern California will see sustained winds of 40-50 mph with gusts up to 60 mph beginning on Sunday and continuing into Monday. Such winds can result in localized power outages and some minor damage. 
As the storm approaches the Baja Peninsula, significant moisture will get drawn northward into the Southwest, bringing heavy rainfall. This rainfall can cause flooding and mudslides as early as Saturday for the Southwest U.S. There will be a significant risk of flash flooding, mudslides, and rapidly rising water in parts of Southern California, western Arizona, and Nevada. The storm will track close to the coast, causing damaging wind gusts. As Hilary approaches the southwestern United States coastline, potentially dangerous wind gusts could spread through Tuesday evening through the, especially over the mountains. High waves and surf will also affect Southern California, bringing the risk of dangerous rip currents.
Due to moisture being drawn north into the southwestern U.S. well before Hilary formed, significant rainfall is expected in parts of the Desert Southwest and Great Basin regions as early as Saturday or Saturday night, regardless of its exact intensity and track. However, a farther east track of Hilary could bring even more expansive coverage of heavy rain into the southwestern U.S. with the potential for locally higher rainfall totals. Extensive flooding is a massive concern for areas of steep terrain, near burn scars from wildfires in recent years, and in the deserts of Southern California. In some places, rainfall from this storm in a matter of a few days, could be two times of what is typical for rain in an entire year. Flash flooding near and along critical U.S. interstate highways and railroads can result in delays or possible closure of these essential routes for commerce, including portions of the I-40, the I-15, the I-8, and the I-10.
In recorded history, several notable tropical cyclones have impacted areas of Southern California. The most recent on record was in September of 1997 when Hurricane Linda (the strongest eastern Pacific Hurricane on record) tracked westward away from Southern California. However, it still brought significant rainfall across parts of the region. Also, in September of 1997, Hurricane Nora tracked into California and Arizona shortly after Hurricane Linda. Nora crossed into the southwestern U.S. as a tropical storm, bringing heavy rainfall to southeastern California and Arizona.
The experts at ServiceMaster Recovery Management have responded to some of the most devastating hurricanes in our country's history. We leverage our real-world experience to assess your situation quickly, determine the extent of the damage, and do whatever it takes to get your business back up and running.
Have A Plan Ready BEFORE Hurricane Hilary Hits. Call ServiceMaster Recovery Management Today 1-844-993-0527. 
We're Ready To Respond NOW. ServiceMaster Management will be there for you before, during, and after the storm hits.