As we enter June and it starts to feel like summer is around the corner, it's important to also keep in mind that June marks the beginning of the Atlantic hurricane season. The Atlantic hurricane season is the period of the year from June 1st through November 30th. This timeframe is when tropical cyclones that become hurricanes are most likely to form in the North Atlantic Ocean.
NOAA forecasters with the Climate Prediction Center, a division of the National Weather Service, predict near-normal hurricane activity in the Atlantic for 2023. Every year, The National Oceanic and Atmospheric Administration (NOAA) releases a pre-season outlook of the expected activity for the season. NOAA's outlook for the 2023 Atlantic hurricane season predicts a 40% chance of a near-normal season, a 30% chance of an above-normal season and a 30% chance of a below-normal season.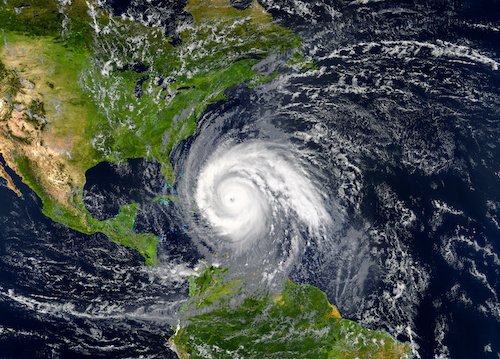 NOAA said it expects 12 to 17 named storms (winds of 39 mph or higher) and five to nine (winds of 74 mph or higher) hurricanes this year, with one to four major hurricanes (category 3, 4 or 5; with winds of 111 mph or higher). NOAA maintains a 70% confidence in these ranges.
As hurricane season approaches, it's important to be prepared and to know what to do if you receive any weather related to tropical storms or hurricanes. Now is the time to make electronic copies of all important documents and take pictures of your property pre-weather emergency so you have something to share with insurance providers. Be sure you know how to contact your utility company to turn off the water, gas and electric if flooding is imminent. Lastly, have a plan – know how to not only get out of your facility, but the neighborhood as well, if mandatory evacuations are declared.
A review of the 2022 hurricane season:
An average hurricane season has 14 named storms, seven hurricanes and three major hurricanes. The 2022 hurricane season produced 14 named storms, of which eight became hurricanes and two of those intensified to major hurricanes, with winds reaching 111 mph or greater. The 2022 seasonal activity fell within NOAA's predicted ranges for named storms and hurricanes. There were three hurricane landfalls along the coast of the U.S. mainland.
September 24th 2022 - Hurricane Fiona made landfall outside of the mainland U.S. as a Category 1 near Punta Tocon, Puerto Rico.
September 28th 2022 - Hurricane Ian made landfall first as a Category 4 storm in Cayo Costa, Florida, and again as a Category 1 in Georgetown, South Carolina. As a Category 4 with 150 mph maximum sustained winds, Hurricane Ian tied for the fifth-strongest hurricane ever to make landfall in the U.S.
November 10th 2022 - Hurricane Nicole made landfall as a Category 1 in north Hutchinson Island, Florida.
The upcoming Atlantic hurricane season is expected to be less active than recent years, due to competing factors — some that fuel storm development and some that suppress it — making this year's overall forecast for a near-normal season. The experts at ServiceMaster Recovery Management will be monitoring all storm activity throughout the season and will continue to update and share any vital information through this app. Please contact your rep today if you have any questions or want to discuss the topic further.
ServiceMaster Recovery Management is here to answer your questions about hurricanes to better understand the potential damage you may encounter and the necessary steps you need to take if you're affected and in need of commercial damage restoration.
Hurricane damage to your home or business should not to be taken lightly. What may seem like a few inches of water and sustained winds may lead to costly problems down the road that may require water extraction, water damage mitigation, and mold remediation if the problem is left unaddressed. Calling a severe storm damage expert like ServiceMaster Restore will help you and your family know what steps to take and what will be needed to recover your home.