Every September, National Preparedness Month is observed to raise awareness about the importance of preparing for disasters and emergencies that could happen at any time. Businesses and their staff face a variety of hazards. Whether it be natural, like a flood or tornado, or a health hazard, like the flu, business owners can prepare for themselves, their business, and their staff for threats they are likely to see.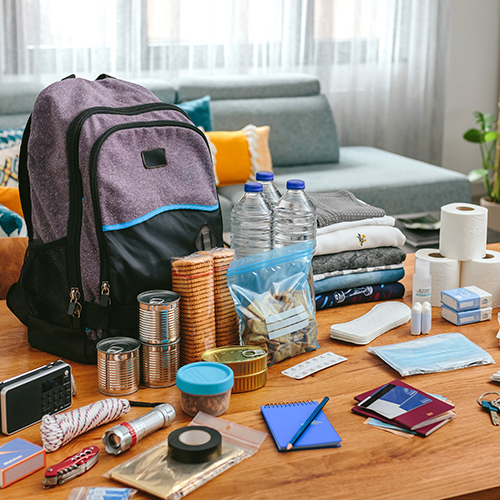 When a disaster strikes, a quick and adequate response is your only chance to stay safe and recover in short order. To react fast and effectively, you need to be well prepared. If you're a business owner, proper disaster preparedness takes on even more importance – you need to ensure your safety and the safety of your employees, customers, and everyone else who happens to be in your facility when an emergency occurs. A good business disaster plan will help protect lives, equipment, and property, minimize financial loss, and expedite recovery.
In an emergency or disaster, it is vital to have the right supplies on hand for those in your facility. Creating an emergency kit does just that. An emergency kit is a collection of items your facility may need in an emergency. Although some emergencies come with a warning, other situations require you to act quickly. Creating a kit in advance and storing it in a secure location will give you more time to evacuate or shelter in place.
What Should Your Emergency Kit Include? A business disaster kit should include emergency office supplies and equipment that will allow you and your employees to stay safe, give first aid to the injured, and receive timely updates and information about the situation. FEMA suggests having enough supplies for 72 hours in an easy-to-carry bin or bag stored in an easily accessible location.
Essential items to include in an emergency kit:
· Water (one gallon per person per day for several days for drinking and sanitation)
· Food (at least a three-day supply of non-perishable food)
· First-aid kit and any essential medications
· Any essential company documents
· Emergency contact list
· Battery-powered or hand-crank radio
· Flashlights
· Extra batteries
· Whistle (to signal for help if necessary)
· Moist towelettes, garbage bags, and plastic ties (for personal sanitation)
· Masks, soap, hand sanitizer, disinfecting wipes to disinfect surfaces
· Basic tools
· Manual can opener
· Local maps
· Blankets
· Fire extinguisher
· Matches in a waterproof container
· Mess kits, paper cups, plates, paper towels, and plastic utensils
· Paper and pencil
After creating your emergency kit, it is essential to maintain it over time. Keep food in a cool, dry place in tightly closed containers and replace items as they expire. You should also update your kit as your company's needs change. Another critical step to keep in mind is to educate your employees about the kit and where they can find it if they ever find themselves in a situation where they need it.
Learn more ways to protect your business during National Preparedness Month.