Chances are if you live in the U.S., you have recently been impacted by a deep freeze, a snowstorm, or some other winter weather related event. It's important to understand the differences between these events, as well as how they can impact your business, and how you can best prepare depending on the region you live in. Let's start with some basic questions/definitions.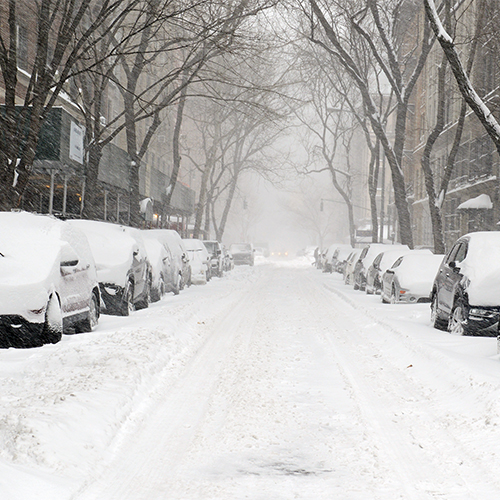 What Is the Polar Vortex? The Polar Vortex is a large area of low pressure and cold air surrounding Earth's poles. It strengthens in the winter, causing the area to expand as far as the Midwest and Plains states. This sends blasts of frigid air into the Midwest and the Plains states, causing frozen pipes and severe winter weather conditions. The Polar Vortex is a regular occurrence in the United States. The term 'vortex' refers to the counterclockwise flow of air that helps keep the colder air near the Poles. It's worth noting that polar vortexes happen around every other year and are not new.
Many times, during winter in the northern hemisphere, the polar vortex will expand, sending cold air southward. This occurs fairly regularly during wintertime and is often associated with large outbreaks of Arctic air in the United States. By itself, the only danger to humans is the magnitude of how cold temperatures will get when the polar vortex expands, sending Arctic air southward into areas that are not typically that cold.
What Causes the Polar Vortex? A polar vortex expansion happens when the low-pressure system is disrupted by a weather event. The jet stream of wind that normally keeps cold air north does not have enough force to maintain the same path, causing the high-pressure systems to push the cold air south. The lobes that are formed because of this movement then stretch and move south, causing Arctic air to spill and cause lower temperatures in the areas affected.
How Long Does A Polar Vortex Last? This varies depending on a range of factors, with abnormal cold temperatures potentially lasting anywhere from a week to more than a month. For example, in February 2021 the polar vortex event by Winter Storm Uri lasted ten days for most, but the impact was felt for several weeks in areas, such as Oklahoma and Texas. These lasting impacts on the winter weather patterns can continue to affect weather for several weeks.
How Can The Polar Vortex Affect My Business? These damaging winds caused by the Arctic weather are strong enough to potentially cause severe damage to your business. Your roof may suffer winter weather damage as a result of the strong, cold winds, providing an easy entrance for snow or water to enter and cause water damage to your business. Your water pipes may also freeze, leading your pipes to burst and extensive water damage to affect your property. Burst pipes were among the leading causes of damage caused by Winter Storm Uri in February 2021, with thousands of Texas homes and businesses having extensive water damage as a result.
Extreme cold weather has plagued the country the past few years, including devastating cold temperatures from the Polar Vortex, and meteorologists predict it will continue. In short, there is no cause to be alarmed when you hear about the polar vortex, but you should be prepared to protect your business during colder temperatures.
While the immediate damages of the cold weather are worth noting, there are also long-term damages that could happen. Snow or ice forming in your roof could lead to ice dams that can lead to damage to your roof that can then lead to water leaks in your facility. Water damage that goes unaddressed in your roofs or walls could lead to mold, which may require mold removal to address. Any time the temperatures are low enough, frozen pipes are a concern for commercial buildings. Frozen pipes are one of the leading causes of property damage in the wintertime. Taking preventative measures can save you time and money. Follow these tips to ensure your business is prepared for any type of hazardous winter weather:
Prepare Your Pipes. Insulate pipes that are located in exterior walls, or unheated areas, such as a basement. Open cabinet doors to allow warm air to circulate around pipes and let water drip from faucets served by exposed pipes.
Know Where Your Main Water Shut Off Valve is Located. If the unfortunate does happen, and you have a pipe burst you'll want to shut the water source off immediately.
Review Back Up Power. Losing power is never convenient, but during frigid temperatures, it could be catastrophic. Make sure you have reliable backup power in place to provide continuous power to your building if there's an outage.
Maintain Safety. The Insurance Institute for Business & Home Safety recommends keeping buildings at least at 55°F - even when it's unoccupied. Also make sure that you're keeping your parking lots plowed, sidewalks shoveled and salted, putting mats inside and outside doors to minimize the amount of snow that's tracked in.
Implement Business Continuity Plans. Extreme winter weather can wreak havoc on your property and your employees. Having an existing plan in place can help you combat the impacts and get your business back up and running fast. Learn more here about why you need a Pre-Loss Agreement.