Early this week, thick smoke blanketed much of the Pacific Northwest as numerous wildfires in Canada, Washington, and Oregon continued to burn. These combined wildfires have dragged the region's air quality into the 'unhealthy for sensitive groups' and 'unhealthy' categories — an index ranging from 101 to 200 — as they progressed over the weekend.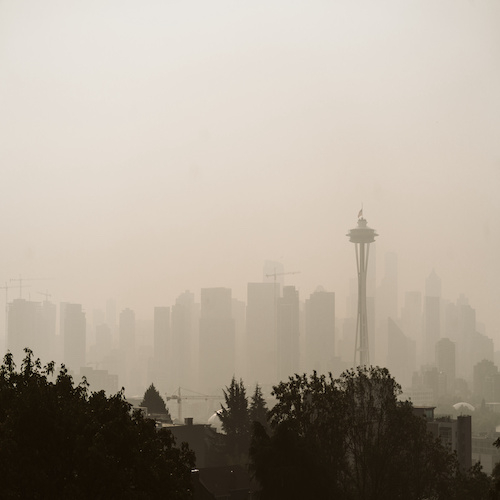 Wildfire smoke contains very tiny particulate matter. When inhaled, it can travel deep into lung tissue and enter the bloodstream, according to the U.S. Environmental Protection Agency. OSHA standards address potentially hazardous conditions leading to serious physical harm or death. Such standards may include those for specific air contaminants, ventilation systems, or the General Duty Clause of the Occupational Safety and Health Act of 1970 (OSH Act). OSHA recognizes that poor IAQ can be hazardous to workers' health and that it is in the best interest of everyone that building owners, managers, and employers take a proactive approach to address IAQ concerns. The EPA has identified IAQ as one of the top five most urgent environmental risks to public health. Failure of building owners and operators to respond quickly and effectively to IAQ problems can lead to numerous adverse health consequences.
The National Interagency Fire Center statistics show that, as of August 21, 2023, there have been 36,275 fires this year that have burned 1.76 million acres. There are currently 98 large wildfires burning just over 650,000 acres across 15 states. The following are a focused concern in the Northwest, as their combination is causing an increase in concern for poor air quality.
Smoke from fires in British Columbia, Eastern Washington, and the Cascade Mountains began to filter into Western Washington on Saturday. At least six large fires were burning in Washington State:
The Gray Fire - discovered around noon on Friday and was only 10 percent contained as of August 21.
The Oregon Road Fire - burned over 10,000 acres and was only 10 percent contained as of August 21.
The Crater Creek Fire - burned 4,876 acres and has 0% containment as of August 21. The fire started on July 22 due to lightning in British Columbia, Canada. It traveled south into Washington state, burning in remote and rugged terrain.
The Gray Fire - started near Medical Lake in Spokane on August 18 and reached 10,014 acres as of August 21 with just 10% containment.
The Oregon Road Fire - reported on August 18 and grew to 10,142 acres by August 21. It has no containment.
The Sourdough Fire - started on July 29 and has burned 5,997 as of August 21, with 12% containment.
Air quality remains poor across most of Washington state Wednesday, though improvement can be seen along the coast. In Oregon, another three large fires are burning:
The Flat Fire - began on July 15 and is burning two miles southeast of Agness. The burn scars from fires in the area over the past two decades have had a significant impact.
The Bedrock Fire - an active, fast-growing fire moving uphill in the Willamette National Forest. It has reached 30,486 acres as of August 21, with 35% containment.
The Lookout Fire - a lightning-caused fire burning in the Willamette National Forest. It has burned 11,174 acres and has 5% containment.
British Columbia has seen 1,874 fires in 2023, and as of August 21, 317 were active with 155 of those considered out of control. Three hundred seventeen of the active fires were caused by lightning. There are 14 fires of note, which are highly visible or pose a potential threat to public safety.
The Donnie Creek Blaze - now under control; it has already burned about 1.4 million acres or 2,200 square miles and is still burning.
The McDougall Creek Fire - grew one hundredfold in 24 hours, leading to an issued state of emergency on Friday, August 18. About 27,180 acres had burned as of August 21.
The damage can be widespread whether your property is damaged directly by fire or indirectly by the smoke and soot. Soot and smoke can enter ventilation systems and affect far-reaching areas of your property. The team at ServiceMaster Recovery Management know exactly where to look and how to rid your property of smoke and soot.
If wildfires have impacted your business, stay diligent and call ServiceMaster Recovery Management at (844) 993-0527 now to have a professional team improve your building's air quality. We have air movers and hydroxyls near you ready to put to use today.