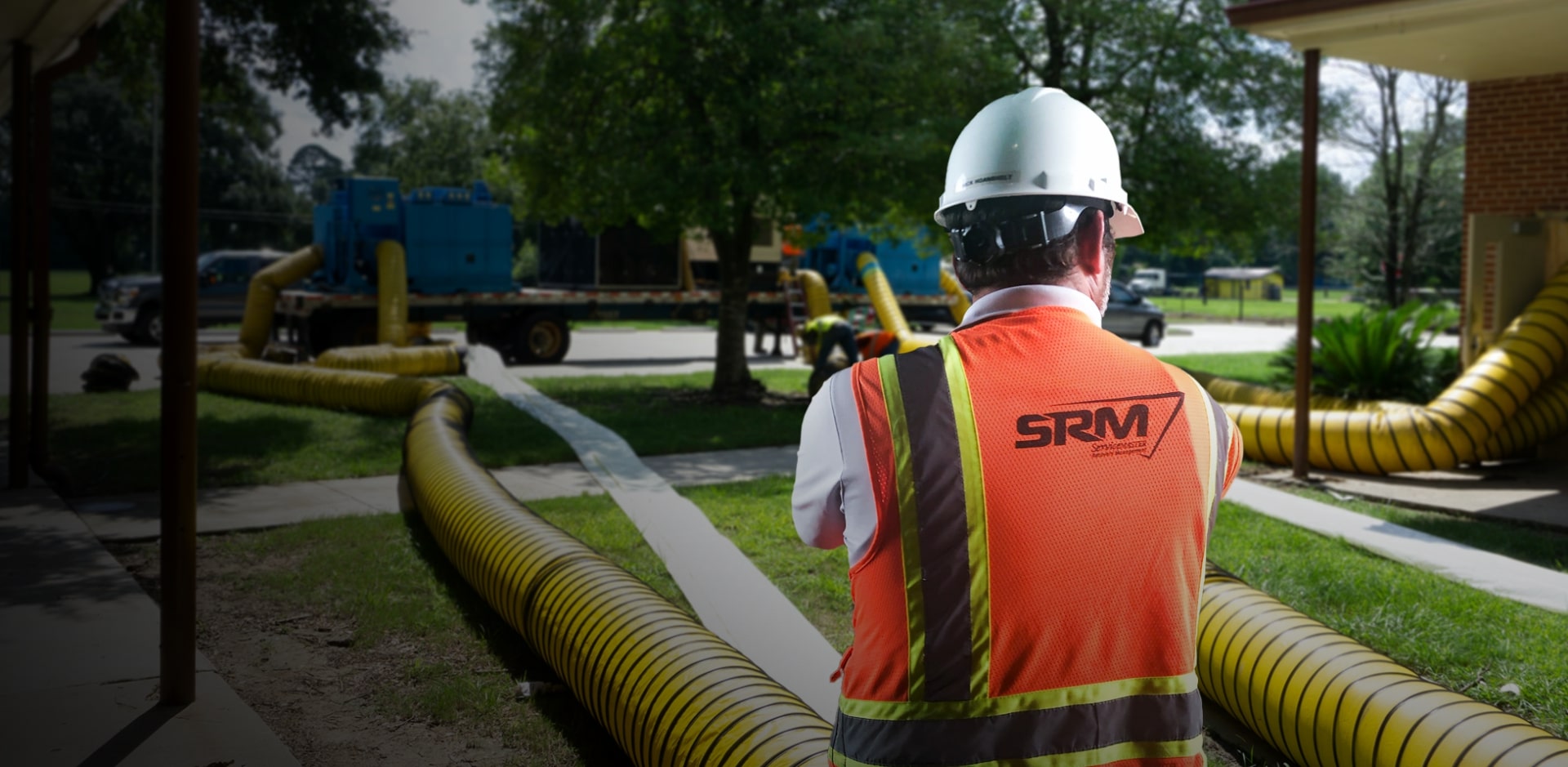 When Disaster Strikes
Make ServiceMaster
Recovery Management
Your First Call
Get Help Now
Disaster Restoration Services For Businesses & Commercial Buildings
Recovery
Management Services
Offering the Only Proactive Approach to
Disaster Restoration
If your organization has sustained damage or downtime as the result of a storm, fire, flood, or another event, ServiceMaster Recovery Manager offers a single-source solution for disasters of all magnitudes. We'll help you get your business up and running again as quickly as possible using advanced processes and industry-leading technology – and can also help you plan ahead for future events. Backed by a nationally respected brand with over 65 years of experience, we have the resources and capabilities to assist organizations of all sizes and will do so in a professional manner that fully respects your property and everything on it.
SRM sets ourself apart from our industry competitors by providing our national and international customers with over 400 commercial first response locations across the country. Each offers customized services, rapid response times, and effective procedures. We are committed to being there for you when you need our help the most.
SRM helps you recover today and prepare for tomorrow.
Helping People Like You Get Back to Business
"Cleaning the Pentagon is an understatement. What you did was put life back into the building."

- Darryl Diggs, Assistant Services Program Director Department of Defense

"The incredible progress realized over the last few weeks could not have been accomplished without the resources, energies and overall supervision that was provided through SRM."

- Jeremy R. Shaffer, Executive Vice President Cable USA LLC, A Marmon W&C/Berkshire Hathaway Company

"Your support of Miami's crew during this disaster recovery period will have lasting effects not only onboard Miami, but to our Navy and our Nation."

- CMDR R.E. Meyer, Commanding Officer USS Miami (SSN 755)
See More Testimonials
Any Damage, Any Extent, Any Time
The ServiceMaster Recovery Manager team has seen it all and is ready for anything. Our company has helped countless commercial facilities recover from disasters while mitigating their claim severity in the process. Our national alliances and ability to secure scarce materials in declared disaster areas means that major disaster areas are not an issue for our teams.
Over the years, we have served the restoration needs of properties of all kinds and in a variety of industries. From office buildings to healthcare facilities, manufacturing plants to educational properties, our team will adapt our services to the unique needs of your property. There is no project too large or complex for our restoration experts.
Damage to your business, regardless of the extent, can be stressful and traumatic. It's not always easy to know exactly what to do and where to start. Your first move should always be to give SRM a call. We are available 24/7/365, will respond immediately, and will be by your side through every step of the process. We are your partner in getting back to normal.
Expertise That's Always There For You
The Best Defense is a Good Offense
Disasters may be hard to predict, but that doesn't mean you can't be prepared. The best way to minimize damages from these events is to plan ahead. ServiceMaster Recovery Management offers a pre-disaster program and is the only commercial restoration provider that takes a truly proactive approach to disaster preparation and restoration.
Our team works with you to make sure you are always ready for what the future may hold. This includes everything from providing you with advanced weather alerts to strategically staging equipment around your area when dangerous weather is imminent. We have more equipment and resources than other restoration providers and even use drones to assess roofs and spot property damage. SRM has revolutionized how property owners and managers look at their disaster restoration partner and looks forward to working with you to protect your business.
SRM ensures you stay a step ahead.
We have the resources to
Respond. Restore. Recover.
Get Help Now